BeYou Turn Socks for dance-Best price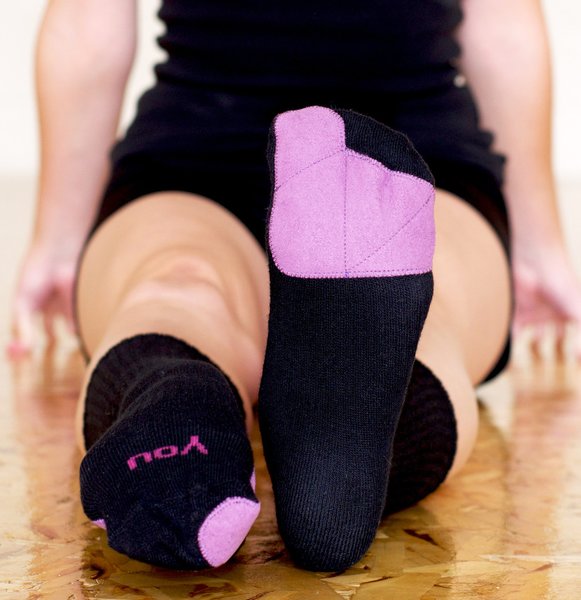 Dance socks like no other!
A complete compression dance sock with an attached pad that allows for the perfect amount of grip when dancing and turning on slippery surfaces.
Benefits:
A little grip, no slip - the sock has a perfectly placed patented pad that allows you to turn, dance and trick on slippery dance surfaces.
The sock is a moisture-wicking compression sock that ensures your sock stays tight, fit and floppy free.
Washable - Machine Wash Cold, Tumble dry. Avoid Fabric Softeners!
Women's size 5-10. Youth size 10Y-4
Available in Black on black and Purple on black.
FAQ's
Q: What is the Sûre Sock?
A: The Sûre Sock is complete compression dance sock that allows dancers to turn with confidence on a variety of hard or slippery surfaces. The Sûre Sock
gives you the comfort of a sock with the control of a dance shoe. It's like giving your dance feet a hug.
Q: Can I wash my Sûre Socks?
A: Please do. The average foot sweats up to 1 cup of water per day. So yeah, you should wash your Sûre Socks. Wash in cold, tumble dry and avoid fabric softeners.
Q: What dance surfaces does the Sûre Sock work for?
A: Sûre Socks are recommended for hardwood or Pergo dance floors. But if you're dancing and you're slipping, go ahead and throw on your Sûre Socks.
Q: What size is the adult Sûre Sock?
A: The Sure Sock is recommended for shoe sizes …5…6…7…8!...and 9 and 10. (US women's 5-10)Q: What size is the youth sock?
A: The Youth size is recommended for 10Y - 4.
Q: What is your return policy?
A: If for any reason you are not completely satisfied with your socks you can exchange or return them within 30 days of purchase.