Rack Monsters-Glitter Elite Series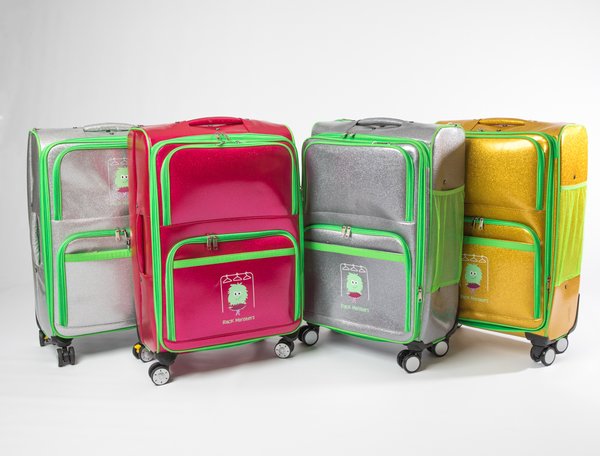 The Glitter Elite series by Rack Monsters
Our new Fall line, limited edition, of the Rack Monsters dance bag.
This item is a PRE-ORDER Only. Delivery is expected in late August-September, 2017.
New added features
Side mesh pocket. Specially designed for 1 liter bottles.
Padded liner
Colored Tees and end caps
Name can be added to the bag for an additional fee of $12.00. Please view the "personalization name add on" page to view font style and color options available.
An advanced system designed for the maximum capacity in a small space.
Made with the highest quality components.




Featuring 3 large zippered external pockets.

Two large zippered pockets on the interior lid and 3 additional pockets in the interior.




Adjustable rack size extending up to 34 inches wide.

Locking double quad wheels for stability and support.




Flexible handles on the top and the side of the bag. Trolley handle is built for a heavy duty bag allowing you to push or pull the bag while gliding on a superior wheel system.




Side and rear protective skid rails

The entire bag is supported by a full steel frame and an additional aluminum frame making this a super solid bag!




Currently offering a 26 inch bag which designed to comfortably hold at least 8 costumes inside.
Featuring an additional one inch of zippered expandable area



Simple rack system.
A 3 piece, solid steel rack, requiring some assembly.




The interior is beautiful, bold and bright so that you can easily and quickly see all of the packed contents.
Dimensions
26 inches in height. Designed to be just the right height, not too tall and not too short.

18 inches wide. Fits a full size hanger.

10 inches in depth with a 1 inch zip/unzip expansion. Adequate to store the suggested amount of costumes with D-rings to hold the costumes in place

Weight is approximately 15 lbs
Does not ship to Hawaii, Alaska or Puerto Rico. International purchases, please send an email for pricing!